ARIA attended European Researchers' Night on 30 September 2022 in Bordeaux, France as one of the dissemination activities.
Ludovica Saccaro, a secondee of ARIA from Inria presented in European Researchers' Night in two sessions: Meeting in the Dark and Researcher Speed Dating.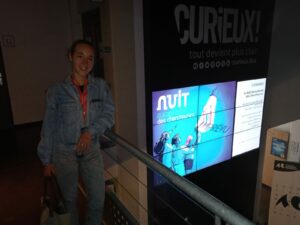 Ludovica Saccaro – ARIA's secondee
Immersed in the dark, the public of around thirty people discover your research thanks to the sound of your voice. They would not discover researcher's identity until the end of the session. This setting allows the public to increase their attention by paying attention to what they hear and requires the researcher to have a challenging, surprising intriguing or even unexpected oral work. The researcher will have 3 minutes of storytelling (5 minutes maximum); then will reveal himself to the public.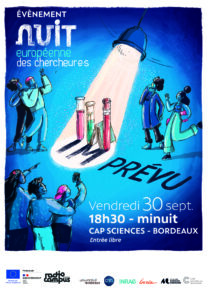 Regarding Researcher Speed Dating, the researcher meets the public in a small group (max. 5 people) and changes every 8 minutes to meet another new small group. 8 minutes is a fairly short time so the researcher has to prepare in advance the answer some questions. The researcher starts by introducing himself and research topic. Then and in order not to make the activity repetitive with the exchanges, a playful approach is proposed. The researcher has at his disposal 5 cards (not all of them will be used in 8 minutes) and the audience chooses to return with the following questions:
– What does the word "unforeseen" mean to you in your research work?
– What unforeseen thing struck you the most during your research?
– How to manage the unexpected aspects during your research?,
– Are you afraid of the unexpected aspects?
– What unforeseen events in the world of research surprised you the most?
The event is indeed a wide public event that displays the diversity of science and its impact on citizens' daily lives in fun, inspiring ways.