Each year, the Chancellor recognizes students, staff, faculty, and community partnerships that embody UC Berkeley's proud tradition of public service and commitment to improving our local and global community. Faculty, staff, undergraduate and graduate students, student organizations, and campus-community partnerships are all eligible. Award categories include: civic engagement, community-engaged teaching, research in the public interest, and campus-community partnership.
About APPCIVIST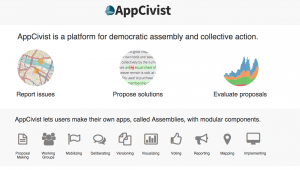 AppCivist is a platform for democratic assembly and collaborative decision-making. It helps people tackle problems in their communities, discuss and decide on ideas for solutions, turn ideas into proposals, edit and vote on proposals, and follow their implementation. It features both modular functionalities and interoperable services. AppCivist can facilitate ideation and help participants make better arguments through versioning, visualization, and collaborative deliberation.  It encourages both on- and off-line collaboration, addressing problems of scale in processes of direct democracy for small and large communities.
AppCivist is the result of a joint research initiative between the Social Apps Lab at CITRIS, UC Berkeley (http://socialappslab.org/), and the MiMove Research Team (https://mimove.inria.fr/) at Inria, Paris. The AppCivist research project studies how new social media can support democratic assembly and participatory citizenship. The initiative is further rooted in the principles of social activism in that it aims to provide citizens with software systems that help them articulate projects, deliberate directly among themselves, and mobilize action.
The AppCivist team is collaborating with the City of Vallejo to use AppCivist for the city's 2016 participatory budgeting campaign. Participatory budgeting (PB) is an allocation process used in many cities around the world through which they commit a percentage of their annual budget (often 5%) to implement citizen-proposed projects. In PB, residents brainstorm, develop, and select project proposals that local governments are then committed to fund and implement.  A key contribution of AppCivist PB Vallejo 2016 is to enable the cohesive creation of both citizen and software assemblies that together implement a given PB campaign.  The Social Apps Lab launched an alpha version of AppCivist for budget delegates in Vallejo in December 2016 and anticipates pilot testing it in 2017 with a federation of organizations in France and in a PB campaign in Asunción, Paraguay.
Related publications
Related links