Today we went to the Cap d'Agde Marina and deployed 14 current consumption sensors. Everything works well, we can now accurately know if a boat is consuming current or not. We are now testing two types of apparatus to measure current consumption.
Below shows some results from the deployment. The sensors are taking total current consumption measurements from each docked boat every 30 seconds. We can already see some patterns!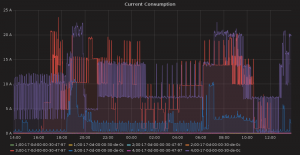 In the meantime, we also updated the driver for boat-detection sensors.