We have developed a new generation of statistical learning (Artificial Intelligence) methods to artificially reproduce the effect of Alzheimer's disease on the brain and cognitive abilities. To build these models, our computer programs analyzed imaging data (Magnetic Resonance Images and Positron Emission Tomography) and neuro-psychological assessments from several hundreds of subjects observed at multiple time-points during the disease course.
Not only do these numerical models show you the typical effects of the disease on the brain, but also, for the first time, how the disease manifests itself differently in different individuals.
These numerical models allow us to better understand the disease, identify the factors that can influence its development, and why not, tomorrow, be able to anticipate the onset of symptoms or even prevent the onset of the disease.
Interactive model of disease progression
Click on the image for an interactive 3D view of a digital model of Alzheimer's Disease progression (careful: does not work on mobile device, use Chrome or Firefox browsers):
Disclaimer: Work in Progress
The first version will be release in late January 2019
The visualization does not currently represent real data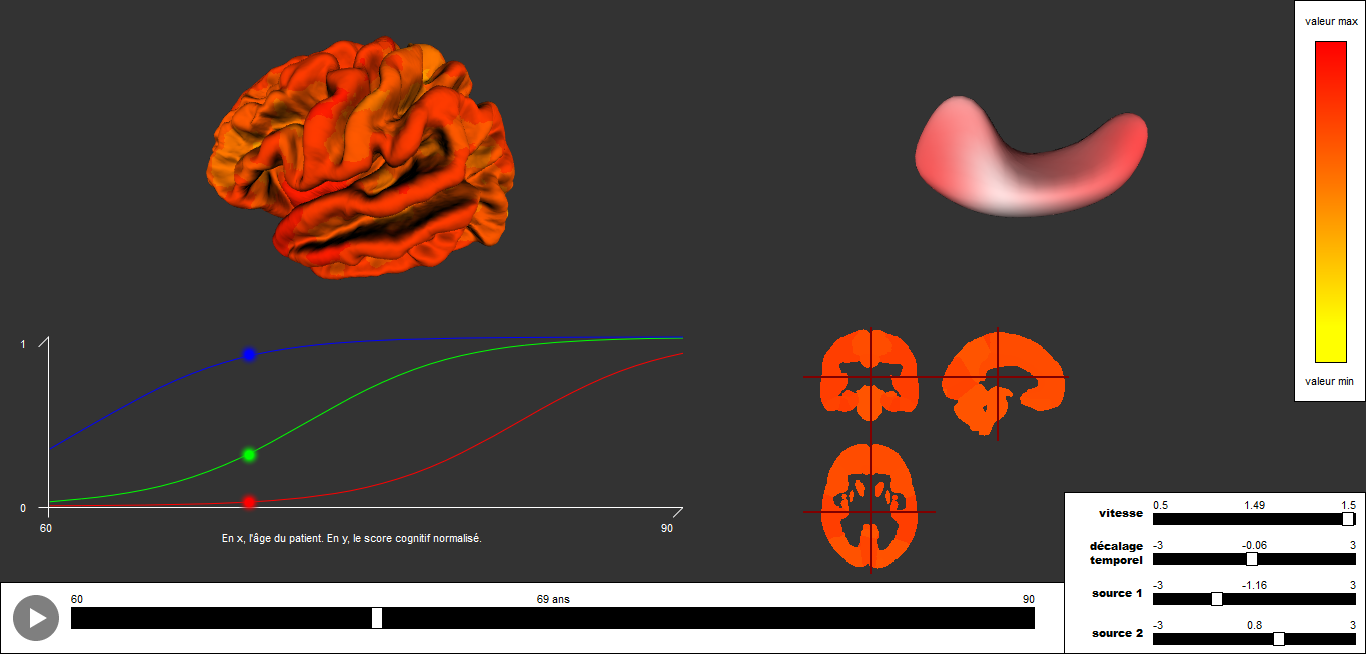 Resources
Data used to train our algorithms are from the Alzheimer's Disease Neuroimaging Initiative. Results have been obtained using the software Deformetrica (for hippocampus atrophy) and Leaspy (for other modalities, to be released soon).
Related Scientific Publications
Spatiotemporal propagation of the cortical atrophy during the course of Alzheimer's Disease: Population and individual patterns, I. Koval, J.-B. Schiratti, A. Routier, M. Bacci, O. Colliot, S. Allassonnière, S. Durrleman, Frontiers in Neurology, section Neurodegeneration, 2018
Learning distributions of shape trajectories from longitudinal datasets: a hierarchical model on a manifold of diffeomorphisms, A. Bône, O. Colliot, S. Durrleman, In Proc. IEEE Conference on Computer Vision and Pattern Recognition (CVPR) (2018)
A Bayesian mixed-effects model to learn trajectories of changes from repeated manifold-valued observations, J.-B. Schiratti, S. Allassonnière, O. Colliot, S. Durrleman, Journal of Machine Learning Research, 18(133):1−33, 2017
Contributors
The results presented here is the outcome of a strong inter-disciplinary research effort within the AramisLab (Inria and ICM Institute) in Paris:
Mathematics & Computer Science
S. Allassonnière, PhD
A. Bône
N. Burgos, PhD
B. Charlier, PhD
O. Colliot, PhD
S. Durrleman, PhD (coordinator)
I. Koval
M. Louis
Neurology & Neuroradiology
A. Bertrand, MD, PhD
S. Epelbaum, MD, PhD
Data Management & Processing
S. Bottani
A. Marcoux
J. Samper
Software Engineering & Web Development
Acknowledgments
This project has been supported in part by the European Research Council (project LEASP under grant agreement No 678304), European Union's Horizon 2020 research and innovation programme (project EuroPOND under grant agreement No 666992), Agence Nationale pour la Recherche (project IHU under grant agreement No ANR-10-IAIHU-06) and core funding from Inria and ICM Institute.