During this 2-year project, working in close collaboration with LS2N and INTUIDOC, the LP3C team conducted more than 10 studies (N = 1,158), surveys or usability tests to consolidate and extend the KASSIS solution. Some preliminary results have already been published, while others will be published in the near future.
The first objective of the studies summarized below was to improve KASSIS from a UCD perspective. When prototypes were designed, they were used to collect user feedback (from students and teachers) during and after the learning tasks. These user tests allowed us to assess whether usability objectives were met, but we also used the information we gathered to drive the design of subsequent prototypes for the INTUIDOC team. For example, this approach was used to analyze users' needs and habits (Study 1) and to evaluate and improve the usability of KASSIS in various teaching settings (Studies 2, 3, 4, 5a, 5b, 6, 8 and 10).
The second objective of these studies was to rigorously evaluate the impact of KASSIS on students' learning outcomes and motivation. To this end, we compared several functionalities of KASSIS with those of more traditional environments (Study 2 for note taking, and Study 8 for graphic quizzes), and assessed different ways of using KASSIS to assess their respective effects on learning (Studies 3 and 4 for dyads' collaborative learning, Studies 5a and 5b for distributed quizzes, and Study 7 for collective feedback in a heatmap format).
The third objective was to design teacher dashboards adopting a UCD approach. For example, we used this approach to analyze teachers' needs and habits (Study 7) and to improve dashboards (Study 10).
The timeline below presents an overview of the project unfolding, while the following table sets out the key features of the studies conducted in the course of the project.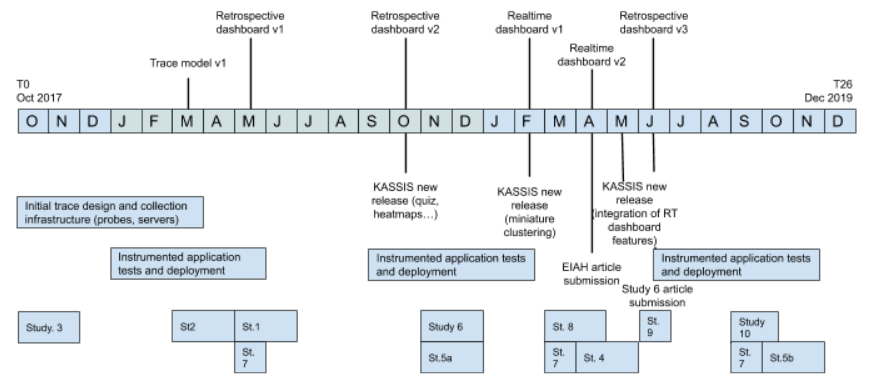 WP

Study
Objective
Number of students involved
Lecture type
Location

Number of teachers involved

1

1

Needs analysis for Kassis

323

N/A

Rennes 2, INSA, Polytech

6

2

Evaluate note-taking efficiency

81

User experience

Rennes 2

1

3

Evaluate Kassis whiteboard for collaborative drawing

76

Tornado formation

Rennes 2

1

4

Evaluate Kassis whiteboard for collaborative drawing

72

Anatomy for physiotherapy students

IFPEK Rennes

1

2

5a

Evaluate the effect of regular quizzes

42

User experience

Rennes 2

1

5b

Evaluate the effect of regular quizzes and the amount of note-taking (in progress)

67

User experience

INSA

Rennes 2

1

3

6

Evaluate the importance of teacher guidance for interpreting collective feedback

70

Observation method for Master's students in social and organizational psychology

Rennes 2

1

4

7

Needs analysis for the dashboard

–

N/A

Rennes 2 , INSA, Polytech

13

8

C

omparison between interactive and traditional teaching

385

Sociometry method in social psychology

Rennes 2

6

9

Collection of various traces to test and improve the dashboard

9

User experience

Rennes 2

1

4

10

Evaluate Kassis and the dashboards in a classroom setting

33

Courses and supervised work

Polytech

1

Total

1181

14
You can have more information about each of the 3 objectives through the following links:
Objective 1: Consolidate and improve the KASSIS solution
Objective 2: Examine the uses and impact of the KASSIS solution on active pedagogy in higher education
Objective 3: Enrich Kassis with Learning Analytics dashboards