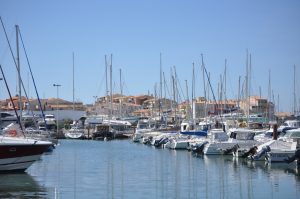 Marinas are quickly evolving from sailing spots to floating neighborhoods. It is now common for people to live on their boat year-round, and for boats to be rented for just a week-end through online platforms. Today, living or staying on a boat is often cheaper that buying or renting an apartment. Similarly, in coastal areas, the marina is often the center of the city, so an ideal location for lodging. As a result, the trend is not going to end any time soon. Today's marinas are tomorrow's smart cities.
And as the marina is evolving, so are the needs.
From a marina management point of view, automatic mooring management and electricity/water monitoring allows personnel to free up to welcome visitors and focus entirely on their well-being.
Year-road boat owners and occasional marina visitors now can enjoy new services, from increased mooring availability to remote monitoring and alerts about the state of their boat.
The combination of embedded micro-controllers, low-power wireless communication and sensors/actuators offers tremendous opportunities for marinas. Off-the-shelf "Internet of Things" technology can now be used to detect the presence of boats in moorings, track usage of water and electricity on a per-boat basis, track a boat in real-time as it enters the marina, etc. Because no wires need to be installed – neither for power, nor communication – installation can be done in a matter of hours in a peal-and-stick fashion. Pontoons can be moved, rearranged or removed, without having to worry about the smart devices mounted on it.
The goal of the project is to build a system composed of sensors deployed all over the marina, and advanced software to monitor the occupation of moorings, and the electricity and water consumption on each spot. The result is a system that allows more efficient management and new services.
Today's boat owners can install a private system on their boat and receive an alert when something suspicious happens, such as a break-in, a fire or a leak. But since the owner are very often not on the boat, it is the marina which need to intervene. The goal of the Smart Marina project is to place the marina at the center of the solution.