Shanoir uses the powerful Solr search engine from Apache Lucene. It allows researchers to easily find precise data among their database. Here are the main features we provide.
Filter by available criteria values
Indexed criteria for datasets in Shanoir are listed below :
study name
subject name
dataset name
tags (a Shanoir feature that allow to add custom tags to any dataset)
creation date
examination comment
center name
modality (mr / ct / pet / eeg / …)
mr dataset nature (diffusion_weighted / t2_star_weighted / …)
slice thickness
pixel bandwidth
magnetic field strength
The textual criteria show lists of all existing values to the user :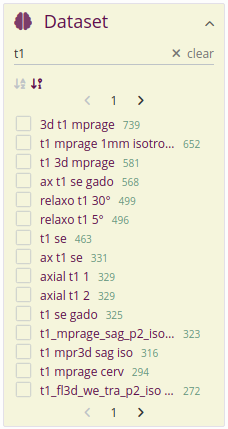 Note that you can filter those values by typing any keyword in the text field.
Those lists can be ordered alphabetically or by the number of corresponding datasets :

Filter by free text
More simply, you can type any keyword(s) in the free text :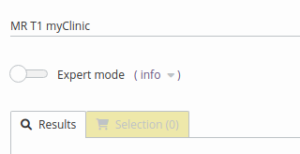 Expert search
Shanoir provides a way to use all the power of Solr query syntax. Just activate the expert mode and type your query.

Sort by any column
By clicking on a column header, you can sort the results. If you want to sort it the other way, just click again.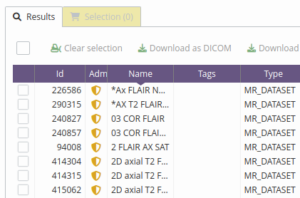 Manage columns display
Columns Can be resized by dragging their border with the cursor.
You can also set a width in pixels with or entirely disabling / enabling visibility for each column in the Columns settings menu.

Those settings can be reset by clicking the Reset columns button.
Manage selection
After selecting many datasets through different researches, your whole selection can be found in the Selection tab.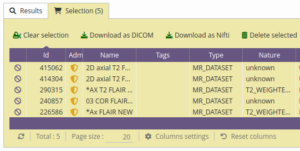 From the Result tab or the Selection tab, you can :
download the selection as DICOM files
download the selection as Nifti files
delete the selection