The conference will be held in Lyon, on the LyonTech campus located north from the City.
Lyon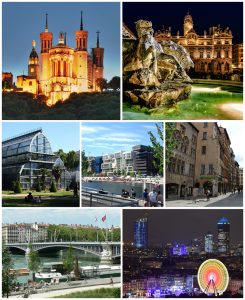 Lyon, French capital of gastronomy, hosts 18 starred chiefs including the famous Paul Bocuse and over 1000 restaurants and "bouchons" (typical regional Lyon cuisine).
Lyon, 2000 years of centrally located heritage classified as a Unesco World Heritage site, is also the birthplace of cinema and photography with the Lumière brothers.
LyonTech campus
The LyonTech campus hosts over 25.000 students and delivers master's degrees in a large panel of disciplines including Computer Science, Engineering, Biological Science, Physics, Mechanics and Bioinformatics.
Travel
Lyon St Exupery International Airport is easily reached from all over the world and is well connected to the city by express tram (rhônexpress).
The station of Lyon Part-Dieu is only 2h away from Paris
Directions
The easiest way to reach the conference venue is the local transportation network (TCL).
From the Part-Dieu station, simply take the tram T1 or T4 northbound to "La Doua Gaston Berger".
Accomodation
On this map, you will find a selection of hotels, restaurants and bars, as well as the conference site and social events' whereabouts