The 7th annual Inria@SiliconValley workshop, took place on June 8-9, 2017 at CITRIS and the Banatao Institute in Berkeley.
The workshop gathered more than 150 participants over the two-day event organized around an international open conference and working sessions.
---
June 8, 2017:  #BLOCKCHAINFORGOOD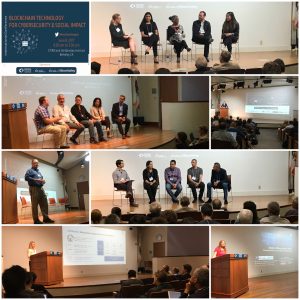 For the 2017 edition, Inria@SiliconValley partnered with the CTIRIS and Banatao Institue  to organize an international open Conference on "Blockchain Technology for Cybersecurity & Social Impact".
Over 150 participants among which researchers and representatives of public organizations, SMEs and start-ups, attended the one-day conference.
The conference featured 3 keynotes (followed by Q&As) :
"Blockchain for Social Good" by Hanna Zubko, Founder, IntellectEU Inc.
Brian Behlendorf, Executive Director, Hyperledger Project.
"The State of Blockchain 2017" by Melanie Swan.
In addition, three panels, each organized around 4 experts, fostered discussions and debates on:
The Future of Blockchain Technology.
Blockchain for Social Good.
Blockchain & Cybersecurity.
The panels were respectively chaired by Jeremy McLaughlin from Associate, K&L Gates,Brandie Nonnecke, from the CITRIS and the Banatao Institute and Alessandro Voto, West Coast Regional Director of Consensys.
---
June 9, 2017:  Inria@SiliconValley working sessions
The annual workshop is the opportunity for the Inria@SiliconValley research community to meet and exchange about ambitious new projects.
For the 2017 edition the working sessions brought together researchers around 3 themes:
Computational methods for the better understanding of human cognition and health – organized by Joke Durnez, Stanford University/Inria, and Nina Miolane, Inria/Stanford University, Consultant for Bay Labs:

The working session  started by presenting the most recent developments of (neuro) informatics tools by the ongoing Inria@SiliconValley collaborations. These collaborations include the Inria teams Asclepios, Athena, Magnet, Parietal and the california institutions Berkeley, USC and Stanford. The morning session enabled attendees to get a deeper understanding of the currentInria@SiliconValley projects, fostering further discussion and collaboration. In the second part of the session, the discussion expanded to the most recent breakthroughs based on 'brain computing' in the industrial world and in academia. Leaders in neuroscience both from industry and academia presented their ongoing activities.

Scaling up for the IoT: organized by Bhaskar Krishnamachari, University of Southern California, and Valerie Issarny, Inria@SiliconValley:
The full day working session brought together -but not only- researchers involved in the Inria@SiliconValley theme "Computing & Communication for the Future Internet". The session was a follow-up to the US-Europe Workshop on Next-Generation Internet of Things, organized in Spring 2016 by  The Ming Hsieh Institute in the Dept. of Electrical Engineering at the University of Southern California in collaboration with Inria@SiliconValley. The session concentrated on  research challenges emphasizing the scale issue, which is not solely concerned by the ultra large volume of things and data involved but also their diversity. The session first gathered the scale-related challenges faced and addressed by the participants to then exchanged about possible joint effort toward cross-fertilization of the ongoing research.