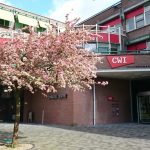 The CWI-Inria workshop which will take place at CWI, Amsterdam, on September 19,20 2017.
The registration is free but mandatory. Please fill in the registration form here.
Regarding accomodation in Amsterdam, a number of rooms have been blocked at Hotel Casa (https://hotelcasa.nl/) located nearby CWI.
The rates per night are: €139.00 for single use, and €152.50 for double use (incl. breakfast, excl. 5% city tax).
In order to make use of this preferred rate, you need to book your room by sending an email to Reservations@hotelcasa.nl and mentioning the reference number GF24082. (You will need a credit card for the booking).
This rate is valid through beginning of July, so I would advise that you reserve your room as soon as possible,
since Amsterdam is indeed very busy in September and prices go higher very quickly.
You may reserve for a longer period for this same rate.
You may contact Susanne van Dam (susanne@cwi.nl) if you have any practical questions regarding the hotel.
As mentioned in our previous mail, each joint project will have a time slot of 30 minutes for a scientific presentation.
May we kindly remind you to send us before end of June the title and abstract for your presentation, and the name(s) of the scientist(s) who will deliver the lecture.
The final program will be posted later, but it is roughly planned as follows:
Tuesday September 19th
12:30-14:00
Arrival and lunch at CWI
14:00-14:30
Opening and presentation of actions within the CWI/Inria Lab
14:30-16:00
Scientific presentations
team COMMUNES (Daan Crommelin/Pietro Congedo): Nassim Razaaly

team MDG/TAO (Michèle Sebag/Enrico Camporeale): Mandar Chandorkar

team ALE (Benoît Combemale/Tijs van der Storm): speaker TBA

16:00-16:30
Coffee break
20:00
Joint dinner
Wednesday September 20th
9:00-11:30
Scientific presentations

Life Science Erable [Stougie/Marie-France Sagot] : speaker TBA

ML/Sequel [Peter Grunwald/Daniil Ryabko] : James Ridgway

Emilie Kaufman/Wouter Koolen:" Monte-Carlo Tree Search by Best Arm Identification"

ML/Sierra [Peter Grunwald/Francis Bach]: Pierre Gaillard

12:00
End of the workshop
We will send later another mail about the practical organization.