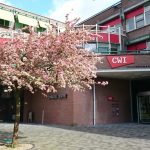 The CWI-Inria workshop which will take place at CWI, Amsterdam on September 19,20 2017.
The registration is free but mandatory. Please fill in the registration form here before 10 September.
After that date, it is still possible to attend the lectures but participation to the joint dinner might not be possible anymore.
See the final program below or download the printable version here.
Practical information:
Location

: CWI – room L120


Science Park 123




1098 XG Amsterdam




Netherlands




Download the Science Park Amsterdam map

Access by public transport

:

Train: CWI is a five minute walk away from NS station Amsterdam Science Park. This station is served four times an hour from the directions Amsterdam Centraal – Schiphol and Almere – Amersfoort. 

Walk through the tunnel after leaving the platform for the science park (northeast exit), cross the street (Carolina MacGillavrylaan) at the crosswalk and walk past the brown building of Amsterdam University College. You will be able to see CWI's main entrance on your left behind the parking lot.

Bus: alternatively, bus 40 serves Amsterdam Science Park four times an hour from stations Amsterdam Amstel (train, metro, tram) and Amsterdam Muiderpoort (train, tram). Get off at bus stop 'Science Park' or 'Science Park Aer'. During rush hour bus 240 can be used, too.

Tram: at Amsterdam Central Station, take tram 9 to Diemen. Get off at Kruislaan (situated at the Middenlaan – Kruislaan intersection). From here, you can walk to Amsterdam Science Park (15 min) or switch to bus 40.
Tuesday September 19th
12:30-14:00
Arrival and lunch at CWI
14:00-14:30
Opening and presentation of actions within the CWI/Inria Lab
14:30-16:00
Scientific presentations

COMMUNES – Daan Crommelin/Pietro Congedo :

 

" 

Novel algorithm for computing multiple failure regions of low probability

"

by 

Nassim Razaaly (abstract – presentation)
MDG/TAO – Enrico Camporeale/Michèle Sebag: " Bayesian inference of non-uniform loss timescales of the transient radial diffusion system " by Mandar Chandorkar (abstract – presentation)
ALE – Tijs van der Storm/Benoît Combemale: " Agile Language Engineering " by Thomas Degueule (abstract – presentation)

16:00-16:30
Coffee break
20:00
Joint dinner
Wednesday September 20th
9:30-12:00
Scientific presentations

ERABLE project – Leen Stougie/Marie-France Sagot : " Modules of ERABLE and of Metabolic Networks " (abstract – presentation)
Non-parametric sequential prediction project – Peter Grunwald/Daniil Ryabko: " Concentration of tempered posteriors and of their variational approximations " by James Ridgway (abstract – presentation)

10:30-11:00
Coffee break
12:00
End of the workshop